Everyone likes to know that their home is secure and that everything and everyone inside is safe while we're gone. Purbeck Aerials are here to help you select and install the right smart home security solutions to give you that feeling.
Maybe you're a parent wanting to ensure your kids are behaving themselves, or monitor your baby sleeping in the nursery, or a pet owner who wants to make sure your little fluffy friends are happy, or maybe you just want to make sure that if the worst happens and you do suffer a break-in or outside theft then you have video evidence of the perpetrators.
The latest solutions allow you to record, receive alerts, and via Wi-Fi connected cameras, view your home and surroundings via your phone or mobile devices. No longer do you have to buy an expensive, and specialised, CCTV solution to provide some additional comfort for your home or business.
Modern home security cameras often use cloud storage, so any evidence is saved on the web and is safe from thieves.
We offer internal and external cameras, doorbells and the network equipment to ensure that you can keep in touch.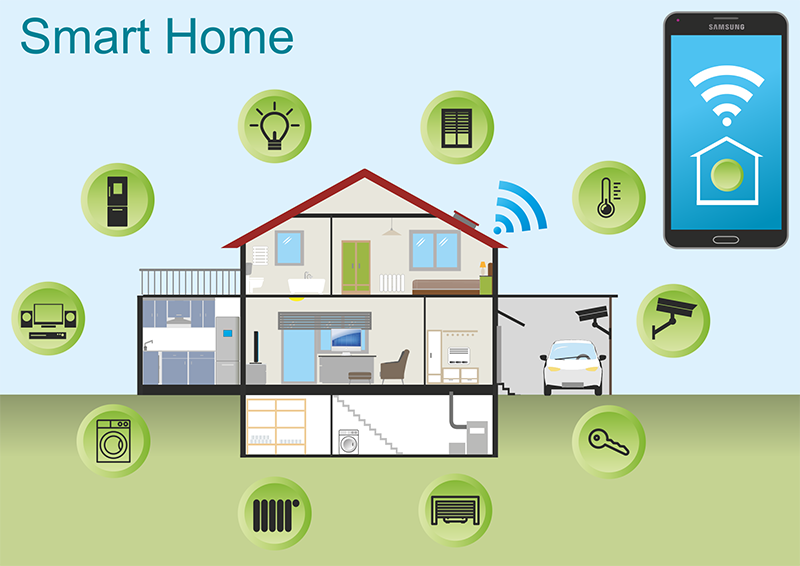 Internal Cameras
Internal security cameras are one of the many ways you can secure your home and it can definitely add peace of mind while you're away. The cameras we install transmit footage to iPhone and Android apps so you can tune in to see all is well from wherever you are. They can alert you if they detect movement, and some additionally have facial recognition. Normally there's a microphone which can detect noises as well and night vision for when it's dark.
External Cameras CCTV/Surveillance
We supply weatherproof cameras with viewing angles that provide the cover you need. Wider angled lenses help cut down on the number of cameras required for overall coverage of your property. However depending on the actual coverage required it may be necessary to use more than one camera.
The resolution of security cameras has improved rapidly. The higher the camera resolution, the clearer and easier the images will be to see. Ideally, you'll want a minimum of 1080 pixels or higher resolution for the clearest images. 4k and 8k cameras are now available. If the cameras are connected to a DVR (digital video recorder) or other recording device, it will also need to be HD compatible in order to keep the image at a high quality.
The cameras, importantly, have Infra Red LED technology that enables the cameras to operate at night and in complete darkness. The number of infrared LEDs used in a camera will normally determine the night vision range.
Many outdoor surveillance cameras are able to live stream a feed directly to your mobile device. If you want to be able to check in during the day or while away for extended periods, this is a valuable feature to have. Some cameras have remote controlled pan, tilt and zoom which allow the user to get the best viewing angle possible. With dome cameras it's often not possible for the person being monitored to see where the camera is pointing.
The best thing about a home video surveillance system is that it's an extra set of eyes. How many times has someone left home and realized twenty minutes later that the front door was unlocked? Each family's individual needs will dictate unique benefits.
Video Doorbell – Answer the Door from Anywhere
One easy way to safeguard against property theft, home intrusion and unwanted door-to-door solicitors is to identify who is at your doorstep before opening your door. The video doorbell enables you to see via your phone who's at your door and is a first line of defence for homeowners. Not only does it let you see and speak with whoever is outside it will also record footage of visitors that approach your door while you're away or unable to answer.
No more missed packages or ignoring important visitors.
These smart doorbells typically use Wi-Fi to stream live video to your phone and offer a variety of features, including cloud video storage, motion detection, interoperability with smart locks, sirens, and other smart home devices.
Smart Security Benefits
So what are the benefits of Smart Home Security?
24/7 surveillance capabilities everywhere a camera is installed.
Recording feature keeps a log of past events.
You can see inside your house or areas outside from anywhere.
Watch for kids to arrive home from school.
Monitor pet activity.
Peace of mind, homes with no security measures in place are five times more likely to be burgled than those who have invested to keep their homes and businesses secure. Importantly Smart Home Security puts you in control.
Network
We have the tools to ensure that your network coverage can reach every part of your property using Wi-Fi boosters and sending equipment to ensure your smart devices can function as designed, ensuring high quality data transfer. We can also install network cables (cat-6) to ensure faster and more reliable connections between your fixed devices.
Purbeck Aerials Security and Network Services for your Home or Business
We provide our security services to Homes, Holiday Homes, Small Businesses, Restaurants, Pubs, Hotels, B&Bs, Guest Houses and Care / Rest Homes.
We are very experienced installing in/on tall Buildings and listed properties.